Artist Mentors are trained in concept-based education, performance-based assessments, and coaching strategies to support a common approach to teacher professional development. In addition to teaching at the Summer Institutes, Artist Mentors provide the one-on-one school year mentorships and residencies.
---
Daemond Arrindell
Daemond Arrindell is a multi-genre writer, arts educator, performer, and arts & equity consultant. He has written for City Arts and Cross Cut magazines, self-published two chapbooks, "Hungry for the Word," and "Mission Statement." He is Adjunct Faculty at Seattle University; Faculty member of Freehold Theatre and co-facilitator of poetry and theater residencies at Monroe Correctional Complex for men; Senior Writer-In-Residence through Seattle Arts & Lectures' Writers in the Schools Program; a Jack Straw Writer; and a VONA/Voices Writer's Workshop fellow. Daemond co-adapted the acclaimed contemporary and satirical novel "Welcome To Braggsville," by T. Geronimo Johnson into a stage production for Book-It Repertory Theater. Braggsville debuted in Seattle in June 2017.
In 2019, he performed his first one-man show, "Frozen Borders," a performative exploration in imagery, poetry and emotion on the subject of the United States' southern border.
---

Rachel Atkins
Rachel Atkins, Theater Artist Mentor, is the Scriptwriter and Education Director for Living Voices, the educational theatre company with whom she has eleven different multi-media shows in ongoing national tours. Rachel has adapted numerous productions for Book-It Repertory Theatre's mainstage and touring seasons, and was an Annex Theatre Hothouse playwright. Her plays have also been seen locally at Seattle Children's Theatre, The Empty Space and 14/48: The World's Quickest Theatre Festival. She currently works as a master teaching artist for Seattle Repertory Theatre and Book-It Repertory Theatre, and is a member of the Washington State Arts Commission Teaching Artist Roster. Previously, she was the Scriptwriter/Dramaturge and Director of Education for Ardeo Theatre Project in St. Julien l'Ars, France. Rachel has over sixteen years of writing, teaching and directing experience, working with preK-12 students and teachers in Seattle, New York and France. She graduated from Dartmouth College and holds her Masters in Educational Theatre from New York University. Rachel has been with Arts Impact since 2008.
---
Ana Maria Campoy
Ana María Campoy is a Mexican-American theatre artist, educator, and advocate. She moved to Seattle in fall 2010 to participate in Seattle Repertory Theatre's Professional Arts Training Program and was part of TAT Lab's inaugural class in 2011-2012. In addition to Seattle Rep, she has taught for the Pacific Northwest Ballet, Book-It Repertory Theatre, Seattle Children's Theatre, and Village Theatre. As an actor, director, adaptor, or dramaturg, she has worked for OSF, Seattle Children's Theatre, Book-It Repertory Theatre, Washington Ensemble Theatre, Seattle Shakespeare Company, and Pork Filled Productions. One of her most cherished acting roles includes Catherine in a bilingual adaptation of David Auburn's Proof, which she also produced and translated alongside director Arlene Martínez-Vásquez, and is now under consideration for publication. She has toured nationally in Living Voices's solo show, La Causa. She's developed multiple bilingual scripts for Seattle Shakespeare's Touring Productions such as: The Taming of the Shrew, Twelfth Night, Macbeth, and Hamlet, the latter two she also directed. Her fifth adaptation with Seattle Shakespeare Company, Romeo y Julieta, shall be premiering this spring. She currently serves as one of five Associate Artists with ArtsWest Theatre for their 2021-2022 Season and was recently named as Associate Artist for Seattle Shakespeare Company. She is a passionate and proud advocate of the performing arts, believing that performance provides communities a voice and individuals self-exploration. At the center of her work lives the driving desire to create opportunities for artists of color, to remove economic and geographical barriers for audiences and students, and to expand and deepen our American identity. In addition to her work within the arts, she founded and now runs the volunteer collective, WashMasks Mutual Aid to provide PPE, support, and advocacy for migrant and seasonal farm workers and their families during this current pandemic (www.washmasks.org; @washmasks on Instagram). She has been with Arts Impact since 2015.
---

Sabrina Chacon-Barajas
Sabrina Chacon-Barajas (she/her/hers) has a BA from Seattle Pacific University in Studio Art and a M.Ed with an emphasis in Critical Educational Change and leadership from UW Bothell. Sabrina is an educator and artist creating illustrative profiles of people and diving into the issues and experiences of existing in multicultural spaces and the complexity of identifying with Latinidad. Her own work is exploratory and incorporates multi-media. Sabrina is an educator in formal and informal spaces such as public schools or community events. She works towards liberatory teaching practices to create spaces of critical thought, joy, and celebration of the self and our communities. Sabrina speaks Spanish and empowers her students to speak and write in their language by being transparent in her experience as a second generation person who is more comfortable with Spanglish! 
---
Johnny Buck
Johnny Buck thinks that Indigenous leaders have the creative power and self-determination to strengthen our nation's resilience and the innovation to develop novel models for regenerative communities. He supports Na'ah Illahee Fund's work leading to power building and developing policies that facilitate systemic change to achieve justice, liberation, and healing. Johnny helps NIF change systems, policies, structures, and practices that have kept inequity in place for Indigenous communities.
He received his Bachelor of Science Native Environmental Science in 2019 from Northwest Indian College, a Leadership that Works-Coaching for Community Transformation Certificate, and a George Washington University-Native American Political Leadership Certificate. Johnny is currently working on his Coaching for Healing, Justice, and Liberation-Professional Coaching Certification.
He brings a deep understanding of Native cultures and customs and a rooted network of relationships with Tribes as an inter-Tribal collaborator, cross-cultural relationship builder, facilitator, and fundraiser with healing-centered, sustainability, and Indigenous approaches to his work. Johnny has been in natural resource management, nonprofit management, leadership development, and policy development roles nationally and in Washington State for 12 years. Johnny volunteers as an Interim Board of Directors member for the BIPOC Health Careers Ecosystem, a volunteer-driven group of BIPOC leaders and professionals throughout Washington State, dedicated to significantly developing BIPOC healthcare leaders and increasing the number of BIPOC health professionals in Washington State. He also supports the Seattle Equity Summit Collaborative as a planning committee member and the Greater Seattle Business Association Scholarship Fund as a facilitator.
When not at work, you can see Johnny with his family enjoying soccer games, hiking, gathering traditional foods, participating in Tribal ceremonies, cooking, working on his art, and streaming shows.
---
Valencia Carroll
Valencia Carroll is a passionate teaching artist, who combines her classical oil painting background with her training and experience gained while practicing as an art therapist. After earning her MA in Art Therapy at The George Washington University, she worked as a board certified art therapist with families and children for several years in locations such as public schools, special education facilities and mental health clinics. She then continued her art education by completing her studies in classical oil painting at the Gage Academy of Art.
In her studio practice, Valencia creates representational oil paintings using classical realism
techniques. She experiments with lighting, color harmony and composition in her figurative and
still-life works. Her goal is to create artwork that is beautifully crafted and that also serves as a
reflection of her worldview.
Valencia has exhibited, presented and taught at several locations throughout Washington
including the Frye Art Museum, the Washington State History Museum, Northwest African
American Museum, Seattle Art Museum, Maryhill Museum of Art and Seattle Theatre Group to
name a few. Valencia has also worked several years as Art Docent Program Coordinator in the
Northshore School District where she has enjoyed sharing the stories and techniques of art and
art making process with K-5 students and their parents. Valencia is an Artist Trust GAP award
recipient and she is active on several artist rosters including the Creative Advantage Community
Arts Partner Roster, ShoreLake Arts Artist Roster, and the ArtsWA Public Artist Roster.
---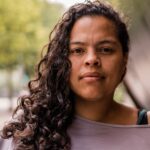 Olissa Enrico-Johnson
Born into a family of music Olisa Enrico-Johnson played in family bands from the age of 4. A writer of expressive songs, Olisa offers Hip-Hop, Soul, and RnB with a funk-folk twist that stays rockin'. Olisa began exploring hip-hop and the art of eMCee at the age of 11.
Her journey with music brought her to theatre in 2003. It was at Seattle Central Community College under the genius of Dr. Tawnya Pettiford-Wates that she was schooled in the Acting methodology of Ritual Poetic Drama within the African Continuum and where she became a part of www.TheConciliationProject.org (TCP) (501c3) whose mission"…to promote through active and challenging dramatic works, open and honest dialogue about racism in America in order to repair its damaging legacy. Olisa believes that artists and art are vital to the state of culture and society and hopes to share her soul through performance.
Olisa earned her BFA, magna cum laude, in performance from Virginia Commonwealth University in 2007. She stayed at VCU to study with her mentors Dr. Tawnya Pettiford-Wates and Professor Janet Rodgers. In 2010 She earned her MFA in theater pedagogy with a dual focus in Acting and Directing and Voice and Speech. She is a certified instructor in RPDWAC , Archetypes for the Actor and the Oxyrhythms.
Her appetite for the stage is immense and is satisfied through teaching, directing and performing. Some favorite performances include "Billie Holiday" from Lady Day at Emerson's Bar and Grill by Lanie Robertson. "Rose" from Fences by August Wilson, "Lady in Blue" from For Colored Girls who Have Considered Suicide When the Rainbow is Enuf by Ntozake Shange, "Nell" from Ain't Misbehavin and "Anita" from West Side Story.
---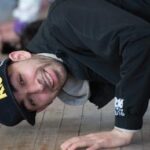 Robert Eyerman
Robert Eyerman, aka Bboy Bobby Drake, started breaking in 2005 at the age of 13. Three years later he co-founded the Dog Pound Crew. His group works frequently alongside the Seattle Theater Group, dancing in productions such as DANCE This, Global Party, and Sasquatch Music Festival. Robert highly values education, graduating from the University of Washington with two degrees – chemistry and biochemistry. His passions include dance, music, medicine, education, and philanthropy. Whenever he is not conducting clinical research in the hepatology clinic at a local Seattle hospital, he provides in-home tutoring to youth, writes music, trains for competitions, and brainstorms how to further impact the world through art and science. Robert enjoys jamming on his guitar, playing with lasers, and traveling the world with his girlfriend.
---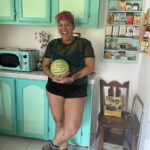 Teal Farías
I am Mexican queer dancer and community organizer that lives for pleasure activism and building community through dance.
I moved to Olympia almost 5 years ago from Mérida, Yucatán, México, searching for a big chance and when I arrived, realized there was not much dancing and decided to pursue music as DJ Siempre Bruja and play intercultural Latinx beats in the PNW.
I am a creative movement artist that uses their body as a social justice canvas.
I believe that community that dances together, stays together.
---
Shameka Gagnier
Shameka Gagnier presently resides with their partner and family in the unceded traditional territories of The Nisqually, Puyallup and Squaxin Island Peoples. They carry bloodlines from Central (Purépecha) and Northern (Cherokee Nation) Turtle Island, Africa (Northern and Western), and Europe (Ireland, England, Spain); many stories and names have been lost due to exploitation, foster care, and adoption. They are committed to working within those intersections to create and support spaces that center art, food, and nourishment for black and indigenous communities. Currently they are a first generation student working towards their undergraduate degree at The Evergreen State College, where they are focusing on Indigenous Studies, Multicultural Communications, and Art.
Gagnier is a multi media artist, working as a wood carver, metalsmith, printmaker, performance artist, music maker, and gardener. Currently they are working with a collective called Black Well Red Thread Collective. This collective creates multimedia art installations with community engagement elements. Within the last year Gagnier has had the opportunity to work as a project coordinator in community lead projects. Much of Gagnier's work as an artist is done in collaboration, as is their teaching pedagogy. Gagnier works as a coordinator and an artist mentor for Native Voices. This learning exchange is one of the most generous and transformative. Working as a artist mentor is deeply enriching work, the young people bring new perspectives, curiousity, skill, adaptability, and courage. As an educator these engagements continue to shape and enrich Gagnier's approach to teaching, creating, and connecting.
---
Luna Garcia
Luna Garcia started dancing Folklorico at age seven with the dance group Joyas Mestizas. In 2007, she started teaching with Joyas Mestizas, and she started dancing with Bailadores de Bronce. Dancing and teaching with both organizations, she has been able to promote and present the beauty of Folklorico throughout the Seattle area. She has taken classes and workshops with renowned Folklorico teachers such as Jose Tena from New Mexico State University and Samuel Cortez from Los Lupeños, San Jose.
---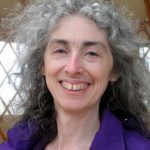 Debbie Gilbert
Debbie Gilbert, Dance Artist Mentor & Curriculum Specialist, is the Co-Artistic Director of the Whistlestop Dance Company. Whistlestop has earned a reputation for excellence in creating dance experiences for people of all ages and abilities. The Dance Educators Association of Washington awarded Whistlestop its 1996 Honor Award for outstanding contribution to dance education in Washington schools. Gilbert performs, choreographs, and teaches students, educators, and teaching artists both nationally and internationally. She has developed training courses and manuals for the arts, has presented at national and international conferences, and has served on the Arts Implementation Task Force (OSPI/WSAC) and the Arts Endorsement Committee (OSPI). Ms. Gilbert has also written dance curriculum for the Washington Alliance for Better Schools, and the Seattle and Anacortes School Districts. In 2009, she was a keynote co-presenter for the UW Jackson School of International Studies K-12 Mosaic. She also performs with the Tickle Tune Typhoon and Light Motion Dance Company, showcasing wheelchair and stand-up dancers. She is the Project Director for Whistlestop's Dancing Math, Dancing Science, Dancing Music, and Dancing Times and Cultures Programs. Debbie has been with Arts Impact since 2003.
---
Cipher Goings
19 YoungArts Finalist Cipher Goings, artistically known as Cipher Divine, is an accomplished dancer. He began his dancing career at Northwest Tap Connection (NWTC) and has been teaching there since 2017. Trained primarily in rhythm tap along with hip-hop, contemporary and ballet, Cipher has performed professionally since the age of ten in NWTC Youth Tap Ensemble (YTE) where he was a dance captain from 2017-2019. Cipher was a featured dancer in the upcoming movie Spirited, starring Ryan Reynolds and Will Ferrell. He also was a part of the 2018 (original) and 2020 cast of Black Bois by Dani Tirrell. In 2020 Cipher had many opportunities to showcase his work, Black Parade, for the Kennedy Center's virtual event, Arts Across America. He premiered work for Seattle Public Library's Reflections: What the Water Holds, and Vote art Vote season 17 directed by Raja Feather-Kelly. Cipher has just graduated from the University of Washington with a Bachelors in Arts for Dance.
---
Carol Gould
Carol Gould, Artist Mentor & Curriculum Specialist, has been a teaching artist in the Snoqualmie Valley for 30 years. She is a graduate of Scripps College with a double degree in Visual Art and Theatre Directing/Design. She completed her MA in Education at Claremont Graduate University. She loves sharing her joy of the arts with K-12 students and teachers in the Riverview School District and at Forest Ridge. Carol has been delighted to be with Arts Impact since 2010. When not in the classroom, she enjoys sharing the magic of mud with students ages 6 to 86 in her pottery studio.
---
Jefferson Greene
I am a cultural artist born and raised on the Warm Springs Indian Reservation. My relatives and my culture have groomed me for sharing much of my life experiences, learnings, understandings and adventures with communities throughout the Northwest region. I'm deeply involved in my ancient Columbia Plateau culture, its ceremonies and practices, I also thrive in the modern world.
My culture is based on generosity. We've been put here on this earth to share and gift and prepare for the next giving. I teach language, legends, song, dance and dance group, weaving, acrylic painting, and necklace/bracelet/earring making. After completing my Bachelor of Science Degree in three disciplines, Management, Marketing, and Advertising, I began serving the Confederated Tribes and people of Warm Springs coordinating Community Projects, writing grants, producing Arts and Entertainment, and being a Public Educator on Columbia Plateau History and Customs. Most recently, my interests have brought me into Columbia Plateau Language Preservation. I am apprenticing under several first Language Ichishkíin Speakers from Warm Springs, Yakama and Umatilla.
---
Elaine Grinnell
Renowned storyteller, basket weaver, indigenous cook and Jamestown Klallam Elder, Elaine Grinnell was born October 16, 1936 in Port Angeles, Washington. She married Fredrick C. Grinnell in 1960 and they have three children: Jack, Julia and Kurt. Zackary, Nickolas and Mackenzie (Jack & Michelle), Khia, Michael, Sarah and Jon (Julia & Jon), Alonah and Jaden (Kurt & Terri) are her grandchildren. Mildred Francis Prince Judson, her mother, was a full blood Jamestown Klallam. Harold Peter James, her father, was a full blood Lummi. Her grandparents on her mother's side were David and Elizabeth Hunter Prince. Elaine's great grandfather was the Prince of Wales. Her great great grandfather, Cheech-ma-han (Indian spelling) was known as Chetzemoka, Chief of the Klallam.
Of her work, Elder Grinnell says, "It is my desire to spread the word of the Klallam people, their culture, legends, food, survival, coping devises, dress and social structure within the community and families. Sharing with all peoples is the way of my people. Honor is foremost and announcing your family name gives those who receive you permission to decide if you are a good representative, if not, they know whom to contact. It is my intention to always honor my family and Tribe or suffer shame."
Elaine is a historian, storyteller and cook. She does traditional cooking at different functions for her own tribe as well as other tribes. In addition, she teaches classes in Native American drum making, basketry and Native American cooking alongside other family members. In her storytelling, she includes legends, creation, animal and lots of fish stories.
---
Julia Grinnell-Borde
My Native name is Kʷkʷilcəd, I am named after my mother Kʷilcəd- Elaine Grinnell. I am from the Prince family, a tribal citizen of the Jamestown S'Klallam Tribe and a descendant of the Lummi Nation. Daughter of Elaine and Fred Grinnell, great -great-great granddaughter of Chief Chetzemoka, Chief of the Jamestown S'Klallam people.
I was born and raised on the beautiful Olympic Peninsula, playing and gathering food on the same beaches my mother, Elaine was raised on, and ancestors before us. I left for a short period of time to go to school, and returned to live near my parents and grandparents. This is where I raised my four children, on Jamestown Beach in Sequim, Washington. They, like myself, grew up connected and a part of our tribal community.
Years ago, my mother Elaine, as a board member for Northwest Native Basketry Association (NNBA), invited my two daughters and I to join the weaving conference. Since then, I have been taught by, and have been teaching beside master weavers from Makah and Lummi Nations; along with other master weavers from all Nations, at the NNBA gatherings. Since 2008, I've been teaching the Youth Track program during the NNBA basket weaving conferences. We have been asked to teach at Weavers Teaching Weavers in Lummi, No Frills events, and private gatherings as well.
Since I have been teaching our Youth Track weavers how to weave baskets for over a decade now; I often get the privilege of seeing a child weave their first basket. I have enjoyed every minute with them and watching them as they grow from year to year. My students have ranged in age and experience, from 3 years old to elders, some with many more years of experience than myself.
The joy on a student's face when they complete their basket, or feel they have mastered the basket I am teaching, alongside the pride they feel when they show their family is heartwarming and unlike any other experience involving both art and culture. Our hope to leave this special gift behind for many more generations to enjoy, and to pass on to their children and loved ones.
---
Mylen Huggins
Mylen Huggins is a visual arts artist mentor, a teaching artist, and an arts advocate passionate about bringing more arts into public schools. She studied graphic design and illustration at College for Creative Studies-Center for Art and Design in Detroit, MI. She also studied ceramics in Chicago for two years; holds a certification in Museum Interpretation through the Smithsonian Institute of Technology in Washington, DC; is a trained practitioner of Visual Thinking Strategies; and is a graduate of WA State Arts Commission Teaching Artist Training Lab. Teaching through visual art gives her an opportunity to creatively collaborate with young students, teachers, and groups from a variety of cultural backgrounds within and beyond Seattle's diverse community. Her teaching artist practice began in 1996, as an educational exhibit interpreter at Seattle Children's Museum. Mylen has been with Arts Impact since 2014.
---
Sarah Klostermeier
Sarah (Grinnell) Klostermeier is the granddaughter of Elaine and Fred Grinnell, and the daughter of Julie Grinnell-Borde and Steven Donahue. Sarah remains very close with her siblings: Khia Grinnell, Michael Donahue, and Jon M. Donahue. Together, they all grew up on Jamestown Beach, in Sequim, Washington, as did generations before them. Sarah is from the Prince family in the Jamestown S'Klallam Tribe, and from the James family in Lummi.
After graduating Sequim High School, she obtained an Associate's Degree from Whatcom Community College and continued on to complete a Bachelor's Degree in Communication Sciences and Disorders, minoring in Psychology, from Western Washington University.
Her time in Bellingham allowed her to expand her cultural teaching experiences and build relationships. Bellingham is where she met her husband, Jacob Klostermeier, a descendent of the White Earth Band of the Chippewa Nation, in Northern Minnesota. As a family, they now live on the Olympic Peninsula, to be surrounded by her family, and her tribe. Her and her family love outdoor activities, and camp all year around throughout Washington.
As a child, Sarah was taught to weave by her grandmother, and honored Elder, Elaine Grinnell. She has had various other teachers, including master weavers from the Lummi Tribe, and Makah Tribe (Theresa Parker). Sarah began teaching Native American Youth through the Northwest Native American Basketweavers Association (NNABA) in 2008, at the age of sixteen. She has since then attended every year to teach youth, adults, and elders. She has been invited to teach at the Weavers Teaching Weavers, in Bellingham for numerous years, and No Frills weaving events that are put on by NNABA, throughout the years, at rotating locations. Opportunities have expanded greatly, with hosted gatherings as well as gatherings put on personally to teach those in her network.
Since 2019, Sarah has been an Artist Mentor, and an active member of the leadership team for Arts Impact; Native Voices. Grandmother Elaine Grinnell, Mother Julie Grinnell, and her host inter-generational teachings; via in-person and virtual academies for Native youth around Washington State. Together they teach a variety of skills including baskets, varying sizes of Reed baskets, woven cedar journal covers, morningstar cedar mats, and more.
Sarah loves to teach, and enjoys the relationships built through teaching the traditional art. She plans to pass the tradition on to her daughter, Ahliah (5), and many generations to come. Teaching is a lifelong path for her, and she plans to develop herself and skills all the while teaching youth.
---
LoVina Louie is schitsu'umsh (Coeur d' Alene) Tribe, nselxcin (Okanogan/Colville), Nimipu (Nez Perce) she is a descendant of Chief Morris Antelope of the schitsu'umsh and Chief Manuel Louie of the Inkaneep Band in Oliver BC Canada. She is a graduate of the University of Idaho where she received her Bachelors in Organizational Sciences with an emphasis in Community and Tribal Wellness. She was recently featured on Lifetime Movie Network 50 Women in 50 States and a speaker at the TEDx Coeur d'Alene event. LoVina is a board member for the Native Wellness Institute, a national trainer and facilitator in youth leadership development, strategic planning, family constellations and community healing and wellness planning. She also has certifications from the Healthy Native Communities Fellowship and Na'ah Illahee Fellowship. She has worked with youth and adults in wellness and healing for over twenty years throughout North America. LoVina is the visionary behind the newly developed and revolutionary exercise series "Powwow Sweat" and co-directed the American Indian Film Festival and Red Nation Film Festival award winning music video "We Shall Remain." As a former Miss Indian World she travelled to hundreds of tribal communities and this experience expanded her world view and desire to help all Indigenous people. LoVina is a wife, mother, grandmother, daughter, sister, friend and an amazing human being. Her passion and zest for life is infectious.
---

Michael B. Maine
Michael B. Maine is a Seattle-based, socially engaged artist and creative consultant. Primarily working as a freelance photographer, he focuses on learning about and addressing issues of social inequity through media, concerned with studying the images that already exist and working towards being additive to the field in a way that increases representation both in front of and behind the lens.
In addition to his professional photography work, Michael makes a point to always have at least one personal project that explores something that keeps him up at night. Past work has focused on youth experiencing homelessness, stereotypes and the concept of deviance, and the mental landscape. Current work is focusing on race and class.
Michael feels strongly about investing in the community and does so primarily through volunteering—including board service and mentoring. He served as the president of the board for both Reel Grrls (a youth media organization) and Businesses Ending Slavery and Trafficking (an organization creating public/private partnerships to help reduce instances of sex trafficking by creating policies, programs, and partnerships designed to reduce demand and access). Additionally, he takes a multidisciplinary approach to mentoring younger people who want to learn more about media literacy and production, seeking out literature representing a range of age, sexuality, gender expression, race and ethnicity, physical and mental ability, and other forms of identity.
His ultimate goal is to help create a media landscape that is more fairly produced and representative of humanity and the range of human identities and experiences.
---

Eduardo Mendonça
Eduardo Mendonça —musician, producer and composer—is a native of Salvador, Bahia, Brazil. Eduardo received his degree in Arts Education from the Music Institute of the Catholic University of Salvador. He is the Music Director for iBuildBridges Foundation and is the Artistic Director for the international performance ensemble Show Brazil.
---
Erica Merritt
Erica Merritt is a singer, vocal coach, teaching artist and social and human services specialist with more than 25 years of experience as an artist and youth development worker in the greater King County region. She began teaching choir in 1998, and has continued to teach voice, songwriting and choir with organizations such as Langston Hughes, Arts Corps, MoPOP and the Creative Advantage. Erica is a social justice advocate who believes Arts Education can close the opportunity gap for underserved youth. Erica's work focuses on the belief that art changes the lives of those who experience it's healing powers, just as art was a catalyst to change in her own life. Her teaching style includes laughter, critical thinking, self-reflection, transparency and fosters a growth mind-set. Her student-centered pedagogy creates a learning space where the student becomes the teacher. She has enjoyed the amazing opportunity to combine her passions of social well-being and music through the art of teaching. Erica takes great pleasure is supporting her students in becoming the best version of themselves.
---
Sara Marie Ortiz
Sara Marie Ortiz (Pueblo of Acoma) graduated from the Institute of American Indian Arts and Antioch University Los Angeles' MFA program with a focus in creative nonfiction. She's formally studied law, Indigenous education, global self-determination in Indigenous communities, radio, theater, and film. Ms. Ortiz has been presenting her creative work nationally and internationally for over fifteen years and has published work extensively, including in prestigious publications such as the Kenyon Review, Ploughshares, Sentence, and Fulcrum. Her first collection Red Milk (2013) is available on Amazon; she is currently at work on her second collection called Savage: A Love Story. Sara Marie Ortiz lives in Burien, Washington and manages the Native Education Program for Highline Public Schools. Sara Marie has been with Arts Impact since 2018.
---

Yvonne Peterson
Yvonne Annette Toon Nee Mu Sh Dupuis Peterson (Chehalis) invites us all to "sit beside" each other and learn – the way her mother showed her to live a caring life. Growing up rich in salmon, berries, and much natural bounty, Yvonne was taught to work hard for family, community and self in the prairie and river lands of her people. Her ancestors are woven into her consciousness and actions, she breathes their same breath and walks the paths they created for her generations ago. It is weaving, in fact, that founds the basis of her culture understandings. Weaving baskets connects her to the Chehalis's cultured natural world, strands of plants and memories coming together in a beautiful contained wholeness to carry into the next generation. Expressing her prayers as poems, Yvonne seeks to "transform the past into the future through a prism of caring." Yvonne is a political scientist, educator, and intergenerational cultural awakener who weaves together traditional and academic methods at home and at the Evergreen State University. As Yvonne says, "You don't teach everyone the same weave because then they won't need each other." Yvonne assures those around her to trust their own thinking, persevere, and show their faces to the ancestors.
Chehalis Elder, eighth generation master weaver, and professor of Indigenous Studies at the Evergreen State College, Yvonne Peterson received Bachelors degrees in Elementary Education and Ethnic Studies from Western Washington University, and a Masters in Political Science from the University of Arizona. Professor Peterson is a founding member of the Indigenous Studies program at the Evergreen State College where she has taught for the past 36 years. With her husband and teaching partner, Gary Peterson, Professor Peterson has collaboratively designed and taught interdisciplinary courses that center Native arts, culture, education, political science and advocacy to shape the next generation of indigenous leaders, creators and agents of change. In recognition of her decades of service to Native students and communities, Ms. Peterson was awarded the Enduring Spirit Award from the Native Action Network in 2015.
---

Joanne Petroff
Joanne Petroff, Dance Artist Mentor, is co-founder and co-artistic director of Whistlestop Dance Company. In addition to her work as a performing artist and choreographer, she has co-authored several dance education publications and is a sought-after presenter for professional development workshops and educational conferences. She is currently on the Washington State Arts Commission Artist-In-Residence roster, a member of the Powerful Schools teaching team. Joanne performs with Light Motion, a dance company established to develop the artistic expressions of both disabled and non-disabled artists. She has been instrumental in bringing integrated wheelchair dance to the forefront of new trends in dance. Joanne has been with Arts Impact since 2003.
---
Sabian Pleasant
Sabian T. Pleasant was born and raised in Jackson, Mississippi. Through time, Sabian has been privileged to teach and choreograph dance all throughout the city of Jackson, Mississippi. In 2001, Sabian moved to Tacoma, WA and instantly began to teach and dance for Metropolitan Ballet of Tacoma for 10 years, under the direction of Damaris Caughlan. There he participated in performances such as "Celebrate his Birth", "Those Who Trespass", "Dance Me to the End of Love", and many more. In 2008, he was given the opportunity to teach Hip Hop at Surrender School of the Arts and is currently still there. Sabian is now the Executive Director of his very own Dance Company called PleasantMovement. "I am excited to give a little bit of myself to our future (through the Arts Impact program) here in Washington State & afar!" Sabian has been with Arts Impact since 2015.
---
Dave Quicksall
Dave Quicksall received a BA in Theater at the University of California at Santa Cruz and went on to receive an MFA in acting at UCLA. In Seattle, Dave has worked in the professional theater as an actor, director, and writer for ACT, Seattle Repertory Theater, the 5th Avenue, Intiman, Seattle Children's Theatre, Seattle Shakespeare Company, and Book-It Repertory Theatre. In 2015, Dave performed in Robin Hood (originally produced by the Seattle Children's Theatre) at the New Victory Theater in New York City. This year will find Dave performing roles in three different plays on three different stages in Seattle: Hamlet for the Seattle Shakespeare Company, The Man of La Mancha for the 5th Avenue Theatre, and The Cherry Orchard for the Seagull Project at ACT.
Most recently, Dave directed a critically acclaimed production of Titus Andronicus for the Seattle Shakespeare Company. As a Teaching Artist, Dave has worked all over the country, including the Wolftrap Institute, the Nashville Institute for the Arts, and the Lawrence Hall of Science at UC Berkeley. Dave has been with Arts Impact since 2002.
---
Amina Quraishi
Amina Quraishi is an Artist, an Educator and a Blessed Mother. She graduated with HBSc from University of Toronto alongside an Advanced Diploma in Art & Art History. She is currently based in Seattle, Washington.
Her art is inspired by her personal connection to the rich cultural and artistic history of the Islamic lands. She exhibits this passion by elaborating the beauty of conventional Islamic Art and Architecture using traditional tools in her artwork.
Ardent to share my love for Islamic Art with others she began teaching in 2017. She has been fortunate to work with fellow artists, religious leaders, librarians and teachers. She wants to continue contributing to the awareness and inclusion in art education by the medium of Islamic Art.
---
Gary Reed
Gary Reed is a dancer and a creative movement specialist with over 30 years experience teaching dance to all ages. He began teaching in 1977 with the NEA Artist in Schools program in Ohio, South Dakota, and California. He graduated from the University of Utah with a Bachelor of Fine Arts degree in Modern Dance in 1978, where he studied teaching techniques with Shirley Ririe, Ann Riordan, and Joan Kingston. He has been a rostered Teaching Dance Artist with the Washington State Arts Commission for the past 22 years, and has also worked with Very Special Arts, Washington. He co-authored EALR based dance curriculums for Washington Alliance for Better Schools (co-sponsored by WSAC) and Anacortes School District. Gary danced with Co Motion Dance Company for 15 years and worked with many nationally known choreographers. He has performed works by Doris Humphrey, Jose Limon, Clay Taliafero, Wade Madsen, Jesse Jaramillo, Lee Anne Hartley, and has performed with various local theaters including the 5th Avenue Theater in Seattle. Gary choreographs and performs with Tickle Tune Typhoon, a nationally recognized children's music group. He is a co-producer of Against the Grain/Men In Dance, which is a biannual showcase featuring the art of men dancing. Gary has been with Arts Impact since 2008.
---
George Rodriguez
George Rodriguez received a BFA in ceramics from the University of Texas El Paso and an MFA from the University of Washington. As a recipient of a Bonderman Travel Fellowship he traveled the world through most of 2010 visiting 26 countries in the span of 10 months. The Museum of Northwest Art recently recognized him as an Emerging Artist Luminary. George has shown extensively throughout the Pacific Northwest and beyond and his work can be found in the permanent collection of the National Mexican Museum of Art in Chicago. George is represented by Foster/White Gallery in Seattle, WA.
---
Marisol Rosa-Shapiro
Marisol Rosa-Shapiro is a Philadelphia, New York, and Seattle-based performer, director, teaching artist, and creator of original works of theater. She is a graduate of Princeton University and of Giovanni Fusetti's Lecoq-based Helikos School of Theatre Creation in Florence, Italy.
Her specialties include mask theater, mime, clown, commedia dell'arte, improvisation, physical comedy, movement-and ensemble-based creation and more. Marisol has been a director, assistant director and producer for numerous theatres, arts centers and schools throughout the country, and currently serves as a Board Member for Clowns Without Borders USA.
---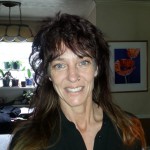 Kris Vermeer
Kris Vermeer is an internationally known visual artist who now lives in Tacoma. Her work is collected by David Attenborough, several Nobel Prize winners, and can be found in the main office of AT&T (Phoenix) as well as permanently displayed in the Las Vegas airport. Her work has also been featured in books by Jean Ray Laury and Jackie Vermeer.
She is a self-taught artist who has been selling professionally since 1985. Kris works in a variety of mediums, such as fused glass, sculptures (steel and stainless), and acrylic painting. Kris is an artist in residence for Tacoma schools and teaches classes for children and adults. Kris has been with Arts Impact since 2012.
---
Toma Villa
I was born in Oklahoma raised in Portland and am a registered member of Yakama Nation. I am continually sharpening my artistic talent that had begun at a young age, but feel that I can learn from anyone who wants to teach me, even young kids. Drawing inspiration from my culture and heritage, art has transformed my sense of identity. With a passion for mediums in airbrushing, printmaking, sculpture and iron casting, I truly feel connected with each piece produced.
The roots of my art have always been graffiti art. I get a lot of my inspiration from various places, from cities I have traveled to and paintings I have seen such as Salvador Dali's work in a museum or Saber's murals on the streets. A lot of my work is inspired by my passion for the river and my time fishing the Columbia River with my family out of Cooks Landing. I use my experiences as a fisherman and have encapsulated them in my work. I feel that one can never dream too big and I always look forward to the future. Some things may seem impossible, but if one makes a plan you will succeed at what you want out of life. I believe the world is so big yet so small and I wish to see it all.
---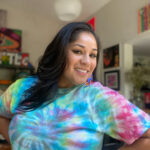 Claudia Villalobos
Claudia was born in Seattle but spent her early years in Granger, Washington where Claudia embraces beautiful memories of farms and fields, and Strong ties to her Hispanic heritage. However once making the big City move at 5 to Seattle Claudia fell in love with the PNW! She is a hippy at heart! She is a Mother of 2 super Amazing kids! She grew up on Beacon Hill, a diverse neighborhood and attended Rainier Beach High school. On her free time, she enjoys traveling, happy hour's, art shows, last minute adventures, road trips and dinner with friends and family​. her most favorite is PNW Sunrises and Sunsets.
Her love of art started early on as a child and blossomed as an adult. After becoming a mother, she quickly realized teaching art and creating is what gave her peace. She started her very own mobile Art workshops to make art more accessible to children and adults everywhere especially in underserved communities.
Her goal is to artistically impact as many youth as possible, with a deep attention to BIPOC youth.
---
Are you interested in becoming an Artist Mentor? Please contact us!