Angel Almaguer teaches math at Grandview Middle School and has participated in our Voices from the Field program for two years. We talked with Angel about his experiences connecting with his students during virtual learning.
INTERVIEW
Angel Almaguer, Math Teacher at Grandview Middle School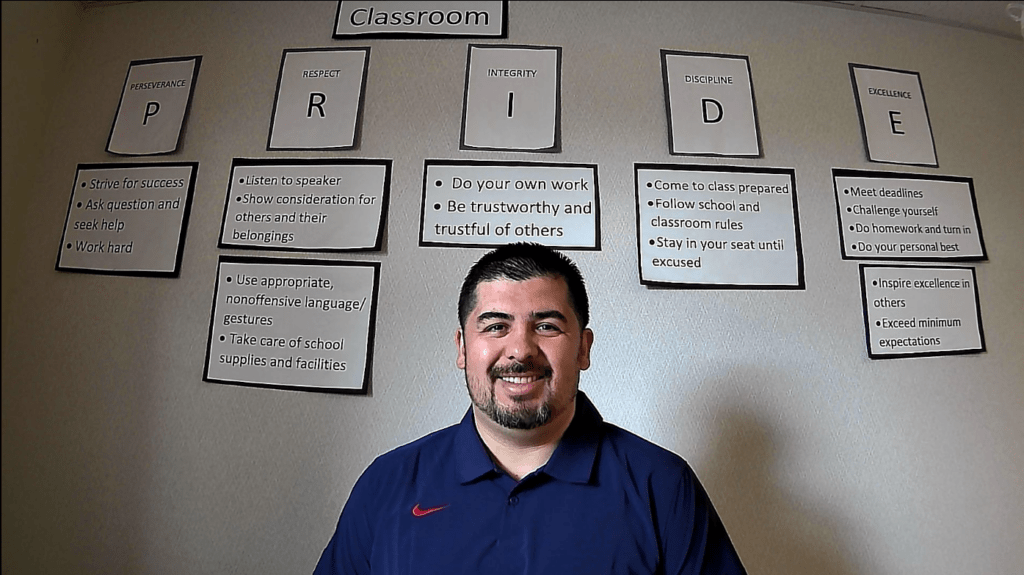 "As soon as you put in something they are interested in, something they like, they remember that lesson, that concept. When you make a connection between math and something they like, it's a great impact."
How/when did you get started teaching or become interested in becoming an educator?
Eight or nine years ago, I was in college, wanting to get into the nursing program. I didn't like my nursing assistant job, so I looked into coaching. I coached at the YMCA and then wanted to move to coaching in schools, and they said I had to become a teacher to coach.
I currently coach volleyball and baseball. I'm detail oriented, so that works with any sport. I went to a coaches' clinic right before lockdown, during that clinic I saw the same technique that we were using for arm warmups in baseball being taught in a volleyball session about pre-serve warmup and strength increase. I'd also love to coach wrestling and football and soccer.
What made you decide to work with Arts Impact, and how has it gone so far?
I learned about the program through some other teachers that were in the program, Vicky and Pedro. Vicky hooked me when she mentioned a week-long trip with art and learning and playing and having fun… all expense paid! Some of the teachers who were in the program were finishing their year three, and there was an opportunity to participate. I guess it was basically word of mouth between teachers.
The Arts Impact program is going great. This is my 3rd year. I'd recommend teachers on the fence to shadow some of the teachers who are already doing it. Even my first year as a teacher in the program, it took me a while to figure out the process with the lesson plan, creation, etc… I would have liked to shadow more to see how all of that was needing to be written and created.
I worked with Gloria in visual arts the first year, which was great, but I'll be honest… I was reluctant to do the dance mentorship. I just didn't know how it would work.
When I worked with Jo this year, I got to do my own thing, and something clicked. Her support and flexibility with my own stubbornness was somehow a perfect fit. She added more to the lesson we were creating to make it accommodating to everyone. She really knows her stuff and how to get kids involved. I thought it wouldn't happen with the virtual set-up, and we made it work. I set the tone with my students and said: we're doing this. You have to be online, cameras on—this is what you do on TikTok, so you can do it for class. So that's what we did.
Last year, before we went thru COVID, kids were asking to do a TikTok video with me, so when I had the opportunity to do this dance lesson—steps for a slope intercept form—it was a great opportunity. When we made it into a TikTok, it connected with the kids.
Do you have a background in the arts?
Not really—I love arts. I love drawing, so I was happy to work with Gloria. I took some art electives in college, but otherwise no. But I did originally want to be an architect: architect to drafter to nursing to teaching was how my higher education decisions went…
What do you think arts-infused learning brings to your classroom or your teaching?
Definitely respect. Respect to the arts. The effectiveness. There is a really prominent impact in students learning a certain concept. As soon as you put in something they are interested in, something they like, they remember that lesson, that concept. When you make a connection between math and something they like, it's a great impact.
So far, the arts have made a good transition and change of pace in the way we do lessons. It gives students a "vacation" from the norms of how we usually teach math, and they need that.
How have you integrated the arts during remote learning?
We did the TikTok lesson through remote learning. My thought was to teach them a concept, but use a platform that they are well-versed in. I remember La Macarena from my own youth—we did line dances or La Macarena at every wedding or party. And all of my students were doing the Renegade dance on TikTok, so I wanted to mash those up and use TikTok to integrate it. I was teaching how to graph a linear equation (slope) on a graph, so there are a series of steps: you work on a grid, called a coordinate plane, a starting point: variable b. We had to get from the origin to the starting point, and from there they had to create the slope of a line, which is done by using rise over run. So they did 3 additional points of the line— using sign language for X and Y. The only thing that didn't work was the actual drawing of the slope because of the difference in screen direction.  
What's something you think our community should know (but maybe doesn't) about your students, your community, your teaching.
There are a lot more students who love arts, who are happy to go through the lessons and would benefit from a program like this. A certain population is given the opportunity—it would be nice for everyone to be able to participate. I've had three or four kids ask to participate. I'd take them in a heartbeat, because I know they could be influencers and they'd benefit everyone.
We're always giving attention to students with behavioral problems, but we don't necessarily pay any attention to those who are quietly doing their work and excelling. Those students can create a greater impact in helping everyone, because the influence comes from other students, not from us, "teachers/adults".
If I got a group of students to incorporate the Renegade dance into ELA or a math or science concept, I guarantee everyone would know it.
Is there anything else you'd like to share?
I'd love to expand the arts that are offered—video games, drones, and incorporate more on how all the arts intertwine. The arts also link to one another. I'd love to combine Folklorico with break dancing, getting both mentors together for one big performance. Any kind of art you do is linked to another kind of art and that shows us and our students that we are all connected.
Want more stories like this? Join our list for artistic inspiration, professional development opportunities, resources, and success stories of arts integrated teaching and learning—right in your inbox!